Are you planning to get yourself a new house? Or are you trying to revamp each and every corner of your house? If you have said yes to either of the questions, there is something that you need to do.
In this article, I will be talking about some of the best door trim ideas that you should use in your house to elevate the look and style.
So if you are someone who wants to take a look into the little things around your house, you have come to the right place. Keep on reading this article till the end to learn more…
20+ Door Trim Ideas That You Need To Know In 2023
Are you looking for some of the best door trim ideas? If yes, then you have reached the right place. Here are the best ideas for door trim that you can use in your house when you are trying to give it a makeover. So, what is stopping you?
Go one and have a look!
1. Victorian Casing Design
Victorians knew how to style their house well, and that is for sure! Use the Victirian style of door casing to ensure that your house looks sophisticated. This can add a very feminie touch to the house if you decorate the room carefully.
2. Colonial Door Trim Design
This is one of the classic door trim ideas that you can use in your house if you want to go for a simple and traditional-looking house. But, even though it is a very traditional design, be rest assured that these will fit any modern household.
3. Wallpaper Door Trim Ideas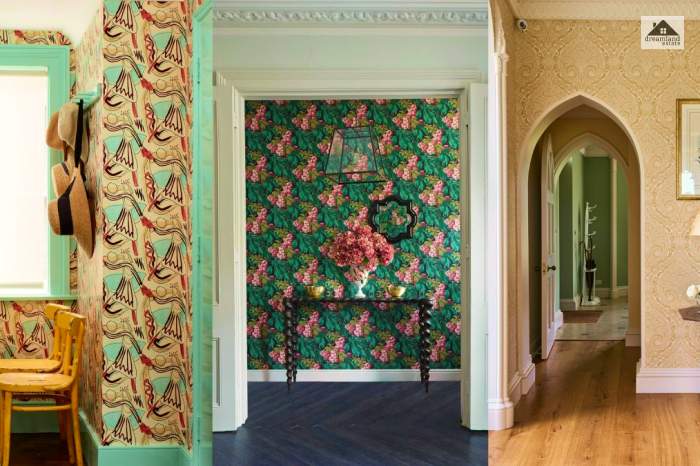 If you don't want to try the wood thing for your door trim or door casing, you can simply use patterned or designed wallpaper. Just place the wallpaper of your preferred design around the door to give it the look of a casing. Easy, isn't it?
4. Minimalist Door Trim Ideas
One of the best things that you can do in order to give your house a different appeal or look is to go for a minimalist look. If you are a firm lover of contemporary style and do not want things to be too loud around you, you will surely love this style.
5. Marble Effect Door Trim Ideas
Another great door trim idea is to use a marble effect around the door. You can either use marble wallpaper or floor paper for this. And if you have a higher budget, you can even go for real marbles.
6. Decorative Door Trim Ideas
If elaborate and decorative items are a thing for you, and you are a sucker for really detailed looks, then you should choose a decorative door trim. These can have elaborate designs that give the door an old school vibe.
7. Rippled Door Trim Ideas
The rippled door trim or door casing effect is one of the most popular designs that you can see in most households. The one thing that you need to do for this is ensure that the casing of the door trims look layered, similar to the ripples on a cloth or water.
8. Seamless Door Trim Ideas
If you want to make your door seamless, then go trimless! This is a great choice for many people in recent times. It gives an edgy yet smooth look to the door and the overall house.
9. Contrast Door Trim Ideas
If you want to try something different, you might want to play with the colors of the door trim and the wall. For example, a brighter and whiter door trim will look great with a wall of darker color.
10. Elaborate Door Trim Ideas
There are many people who want to grab the attention of others (read: GUESTS). If you are one of them, you can try to make your door casing or door trims elaborate with extremely detailed work. Try it out, and thank me later!
11. Rounded Door Trim Design
Rounded door trim designs or ideas are a must-have if you have small children or pets in your house. These provide safety and ensure that the little ones do not get hurt when they are running around the house.
12. Butted End Door Trim Ideas
If you are looking for elegance, sophistication, and simplicity altogether, then you need to try some of the best butted-end door trim ideas in your house. These have a flatter side and a much more defined bottom.
13. Mitered Ends Door Trims
These door casings or trims have three parts, and they are joined at defined angles. This gives you the option of keeping the casing as it is or adding more intricate designs to it.
14. Plywood Door Trims Ideas
Wood can be expensive. But if you are someone who wants to keep the wooden feeling and look, then you might try using plywood for making the door casing. So, you can keep your revamping under the budget without compromising the look of the house. Now THAT's what I call the "best of both worlds!"
15. Textured Door Trim Ideas
Who wants to keep it plain and simple all the time? Not us! That is the reason why you might want to add some texture to your door casing and, indirectly, to your house. This is a great way to do things differently.
16. Cottage Door Casing Ideas
Are you a fan of the farmhouse style of interior design? If yes, then this one is perfect for you. The cottage door trim ideas work best with houses that have minimalist, warm, rustic, cozy vibes.
17. Classic Door Casing
The tradition can always be an easy way for people who are confused about which door casing they should go with. If you are one of them, try to go for the classic wooden door trim idea. Make your door sturdy as well as elegant with this design.
18. Curved Door Casing Idea
There are people who want to do something different but, at the same time, keep it subtle. If you are one of them, you should use the curved door casing. This not only gives the house a different look but, at the same time, makes your guests look back at them.
19. Black And White Door Trim Ideas
If you want some more contrast in your house to bring out the best look, you should try to use a back and white door trim. But, of course, the best thing would be to color the door black or have the trim or casing white. This makes the transition look so much cooler.
20. French Door Trim Ideas
Want something soft yet stylish? Go for a French trim casing design. Try to keep the tone of the room, as well as the door, neutral. This will accentuate the sophisticated look of the house.
21. Rustic Door Trim Ideas
Rustic designs are very trendy at present. This gives the house a very elevated farmhouse look. If you want to ensure that people enter your house and assume that you are rich, this is the one that you should go for.
22. European Door Trim Ideas
Very similar to the colonial door trim casing look, this is another classic door trim idea that you might want to check out.
23. Thin Door Trim Ideas
If you want to make your door stand out in front of your visitors, then do something different. Try to ditch the mainstream idea of having wider door trims and go for a thinner look.
24. Craftsman Door Trim Ideas
Stronger lines and natural wood characterize craftsman door trims. These are also known for their wider casing that gives the door the much-needed strength.
Frequently Asked Questions (FAQs)
Now that you have almost reached the end of this blog, I hope that most of your questions have already been cleared. However, if there are any other doubts regarding the same, you might want to read through some of the questions that readers frequently ask.
1. What Is The Door Trim Around A Door Called?
The trim that is used around the door is known as door casing. The main reason why people use door casing is to use it as a transition between the wall and the wood of the door jamb. It is generally found around the opening of a door.
2. What Is A Door Casing?
A door casing is one of the decorating items or trims that is used on both or either side of the door. The door casing has two different parts. The front part of the casting is allied pilasters, while the top part is known as the lintel.
3. What Is Door Stop Molding?
A door stop is the type of door trim that helps you to prevent the door from closing on its own, crossing the jamb of the door. While it is a very functional element of the door, it can also be used as a decorating component to the look of your door.
Wrapping It Up!
The door trim is a kind of wooden panel that is used on a door. It serves the purpose of making the door look prettier while also serving certain useful functions. This not only gives volume and strength to the door while making it look good, but it also conceals certain parts of the wall and the door.
In case you were searching for some door trim ideas to make your house a prettier or smarter-looking place, I hope that you found this article to be of help. Also, if there are any other queries related to the same, feel free to write them down in the comment section below.
Read Also: