It's no secret that mirrors give a classy look to any room. They can reflect the beauty of the room and enhance it even more. Mirrors brighten up any room as they reflect the natural light off them and across the room.
Whether it is small dining room mirror ideas or large ones, it adds a specific style and works like accessories. Whether a standing floor-length mirror, wall mirrors, ancient mirrors, or decorative mirrors, any of them can go with your aesthetic.
So you can scour the internet to look for the best dining room mirror ideas.
Why Hang Mirrors In The Dining Room?
Hanging mirrors in your dining room will give the impression that the room appears more prominent, and it also creates a pleasing aesthetic. If you are going for more simplistic home decor, then putting up mirrors is the best idea.
To get the best dining room mirror ideas, consider a few things before buying the mirror.
Things To Consider Before Buying A Dining Room Mirror :
You should not run to the market with little to no information about the type of mirror that is best for your dining room. Here are a few features you should be looking for in the dining room mirror ideas.
1. Take Measurements
Measurement is very crucial. You need to know the exact measurements of the wall or the space and where you want to place it.
2. Look For Mirror's Appearance
When you decide on the wall or space you place the mirror, you need to ensure one more thing. You need to see whether the mirror would look good in the room or not. The mirror should look aesthetically pleasing with the other interior decor.
3. Importance In Functionality
After you are done taking the measurements and aesthetics, now you need to know the function of the mirror. Do you want to utilize it for some purpose, or is it just decorative? Is it going to make your room look bright and spacious?
These are the things you want to consider before buying a mirror. Whether you want to frame or frameless is something to consider. Something a bit antique or modern dining room mirror ideas.
4. Decide The Appropriate Size
Now you need to consider the size of the mirror you want to buy. If you have a small dining room or a large one, your mirror should look appropriate. If you have a small dining room, then you can look for small dining room mirror ideas.
Some Dining Room Mirror Ideas
Here are a few interior mirror ideas you can utilize to make your dining room more roomy and glowy.
1. Black Martinsen Full Lenght Mirror (Wayfair)
You can never go wrong with a floor-length mirror in your dining room. This mirror gives a very minimalistic feel to it. And looks great in every room. And with shatterproof glass, it's a plus for sure.
Features:
Shape- Rectangle
Brand- Wayfair
Material- Metal and Glass
Type- Wall-mounted, leaning, freestanding
Price- $109.99
2. Primrose Mirror (Anthropologie)
If you love the antique and vintage look with the gilded feel, then this piece from Anthropologie is the one for you. The primrose mirror will give you the Bridgerton feel of the Victorian era. If this is your aesthetic, then go for it.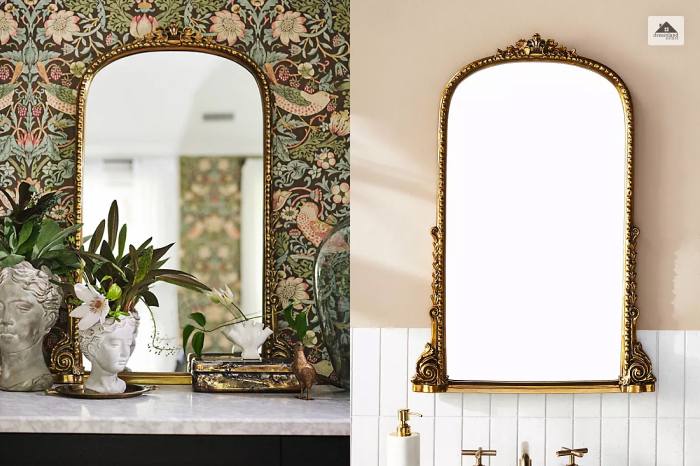 Features:
Shape- Arch topped
Brand- Anthropologie
Material- Resin, Iron, hardwood, and glass
Type- Wall leaned
Price- $848
3. Round Wall Mirror With Rubber Frame (Amazon)
This mirror from Umbra is the definition of minimalistic dining room mirror ideas. You can even put this mirror in any part and it will look great. It is a contemporary mirror with a rubber frame.
Features:
Shape- Round
Brand- Umbra
Material- Glass and Rubber
Type- Wall-mounted
Price- $147.16
4. Hub Oval Wood Mirror (All Modern)
This mirror has a two-in-one feature to it, it is both a mirror and a storage rack at the back. It is a floor-length vanity mirror made to have a hub in the back to be highly functional.
Features:
Shape- Long Oval
Brand-All Modern
Material- Wood
Type- Freestanding
Price- $59.99
5. Greta Sleek Arched-Top Wall Mirror (Wayfair)
This Greta- arched-top mirror is one more great example of another dining room mirror ideas. These full-length mirrors will look great in your dining rooms.
Features:
Shape- Arch/Crowned top
Brand- Wayfair
Material- Polystyrene
Type- Full length, Wall Mirror
Price- $203.99
6. Full Lenght Dressing Mirror With LED Lighting (Amazon)
For the Instagram influencers out there, this is the mirror for you all. The LED light effect in this mirror is definitely going to spruce up your dining room for sure. This is the mirror for your "#OOTD mirrorselfie".
Features:
Shape- Rectangular
Brand- NeuType
Material- Aluminium
Type- Wall Mount
Price- $330
7. Mid-Century Asymmetrical Wood Framed Mirror (West Elm)
If you love the wood-finished decor, then you are gonna love it. This long wood-toned asymmetrical dining room mirror ideas you would love. It is inspired by mid-century Italian design. This is the best sustainable mirror for you.
Features:
Shape- Amoeba-like
Brand- West Elm
Material- Kiln-dried solid eucalyptus wood frame
Type- Wall Mount
Price- $569
8. Curvy Wall Mirror (Etsy)
If your home decor is trendy, then this curvy mirror is the best dining room mirror ideas for you. This curvy number is going to look great with your trendy aesthetic. And it works great as both minimalistic and minimalist looks.
Features:
Shape- Curvy
Brand- AntaresDesignArt
Material- Glass
Type- Wall Mount
Price- $75
9. Multiple Mirror (Amazon)
A beautiful set of 7 round mirrors is undoubtedly going to change the look of your dining room. Sizes range from 12 inches to 6 inches. These mirrors are an eye-catcher.
Features:
Shape-Round
Brand- Light In The Dark
Material- Glass
Type- Wall Mount
Price- $26
10. Bronze Mirror with Beveled Edged Wood Mirror (Amazon)
This farmhouse mirror is one of the more unique ones, and the mirror is laid inside of glass and wood frame. This increases the stereoscopic design of the mirror. Hence, when the light falls on the mirror, it catches the light and reflects it.
Features:
Shape- Rectangular
Brand- Chende
Material- Wood
Type- Beveled edges, hanging
Price- $175.89
Frequently Asked Questions (FAQs):
1. How Big Should A Mirror In Dining Room Ideas Be?
Many believe that the mirror idea of the dining room should be about 57-60 inches in size.
2. Is Ok To Put A Mirror In The Dining Room?
The dining room is an excellent place to put up mirrors, multiple. It makes the place look grander.
3. What Types Of Mirrors Are On-Trend?
The trendy mirrors are the ones with circular motifs or geo forms. And even the curvy mirrors are very trendy right now.
Wrapping Up!
Having great dining room mirror ideas and choosing the mirrors accordingly is the best way to spruce up the place. It can instantly change the whole look of the room.
So you need to choose the right mirror that will look great with the room and your home decor aesthetic.
Read Also: