Whenever we are moving into a new apartment, the number one thought that runs in our head is, "what about furnitures?" If not all furniture, a few of the essential ones are actually important. Like a bed, a table and a sofa.
But what if I tell you, you don't have to spend hundreds of dollars in order to buy a sofa? There are great sofa under 300 dollars available everywhere.
You must be thinking that I am joking that I kid you not. We all know that buying furniture is costly, about a few thousand dollars easily. But if you know exactly where to look and what to search for, then it is not that tough, to find sofa under 300 dollars.
Best Sofa Under 300 Dollars
So, If you are looking for a sofa under 300, then just go through the below list. These are the most budget-friendly sofas that you can buy. Starting from the designs and finishing, you will just love it. So, without wasting any time, let's have a look…
1. Desdemona Mid-Century Modern Sette
This classic mid-century style of modern sofa will definitely give you that chic look you are looking for. If you go for a white or beige look, then it will have a certain old Hollywood feel to it.
And if you are looking for a more relaxing seating arrangement, throw a cozy blanket on it and relax.
The frame of the sofa is made out of birch wood. The dimensions are 51.50 inches in width, 32.75 inches in height, and 30.00 inches in depth.
The price of this sofa is $286 at Lowe's.
2. L-Shaped Sectional Couch
If you are looking for a sectional sofa under 300, then this Mjkone convertible sectional sofa couch is ideal. This sofa also has a storage ottoman attached to it. The frame of this couch is wood, but the legs are of plastic.
The dimensions of this sofa are 52 x77.6 x 33.5 inches. The price of this sofa on Amazon is $270.
3. OLYMSOLD Couch
Maybe you don't have that much space in your apartment and need a smaller option for a sofa. Then the OLYMSOLD couch is the best option for you. It is like a mini couch with a curve in the backrest for lumbar support.
The couch is of a durable build made out of oak wood frame, which makes it the most ergonomic option for your apartment.
The dimensions of this sofa are 28.5 x 44.5 x 34 inches, and its price on Amazon is $207.
4. Armless Loveseat Sofa
For smaller apartments, where big chunky sofas are not possible to fit, don't be like Ross and yell PIVOT! I have a better option for you.
This Armless loveseat sofa is the best option for your apartment. The quirky look of this couch gives you a bold yet sophisticated look to your apartment. This is one of the best sofa under 300.
The dimensions of this couch are 30.5 x 39.2 x 50 inches, and the price of this couch at Walmart is $190.
5. Desert Fields Paxson Futon
Are you looking for a multi-purpose sofa? But you may ask me, what purpose does a sofa has other than sitting or sleeping on it? The desert fields Paxson futon has a USB port attached to it. It is the ideal sofa for a work-from-home situation.
The dimensions of this sofa are 33.50 x 78.50 x 32.00 inches. And the price of this at Walmart is $283.
6. Gray Bothwell Convertible Sofa
Suppose your bed has not yet arrived, but your sofa has, then what to do? How about two in one? This Gray Bothwell convertible sofa is both a bed and a sofa, so two birds with one stone. This is the best sleeper sofa under 300.
The dimensions of this sofa are 30 x 70 x 32.5 inches. And the price of this at Wayfair is $238.
7. Charlize Modern Loveseat
With foamy armrests, this sofa will make you feel like you are floating in the clouds. This sofa is as comfortable as it can get.
The dimensions of this sofa are 28.5 x 44.6 x 32.5 inches. The price of this couch on Amazon is $259.
8. Rane Convertible Sofa Bed
If you are vegan, then buying a leather sofa is a deal breaker for you, but if you get a vegan option? This Rane convertible sofa bed under 300 dollars is the best option for you.
The dimensions of this sofa are 66.1 x 33.1 x 29.5 inches. And the price of this is $267.
9. Wesley Microfiber Sofa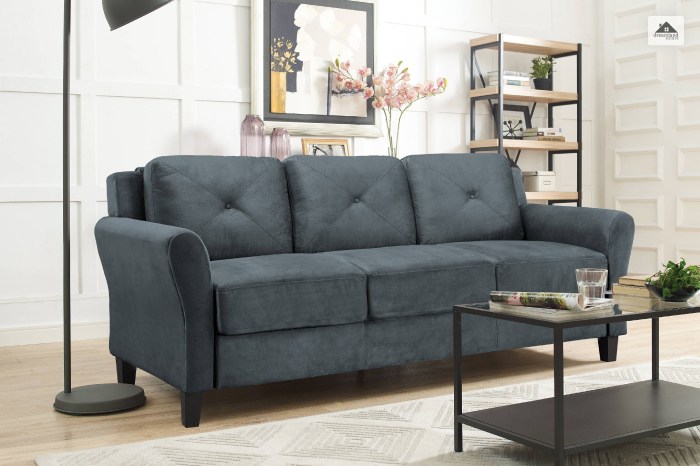 If you have a big family, then you might require a bigger-sized sofa. This Wesley Microfiber three-cushion sofa is the best for you. It is stain free, so you don't have to worry about kids spilling anything on it.
The dimensions of this sofa are 33.9 x 31.5 x 78 8 inches. The price of this at Home Depot is $238.
 10. Straight Arm Velvet Sofa
If you are not looking for classic sofas, then this contemporary number is the best for you. Only $2 over the 300 dollar price limit, but it's worth it. This royal blue sofa with gold metal legs gives an aesthetic look to your house.
The dimensions of this sofa are 32.3 x 30 x 70 inches. And the price of this at HomeDepot is $302.
Best Places To Buy A Sofa
If you are wondering where to go in order to buy a sofa under 300 dollars, here is a list of suggestions of the best places that sell sofas across the United States.
Allform
Allform is a comparatively new furniture brand, but it is backed by the same investors that back Helix, which is one of the most famous mattress in a box companies out there. Allform pays attention to sustainable and good designs, easily buildable modular couches, and a wide range of customization options. This makes it quite clear to customers that Allform offers furniture shoppers the best shopping experience along with quality prices at an attainable price point.
IKEA
IKEA, without any doubt, is one of the most universal and reliable furniture brands ever. If you stay in a big metropolitan area, there is a high chance that you have a big box store that has a wide option of affordable Scandinavian styled designs near you
IKEA is not only convenient but also affordable. Therefore, finding a sofa under 300 dollars will not be that tough a job if you step inside an IKEA store. Being the biggest in the market, IKEA has quite an intuitive app and eCommerce website that compliments its store experience. They also have a feature that helps you check the stocks in store. This is very helpful if there is furniture, like sofas, etc., that customers may want to see in person.
Ashley Furniture
They may not be the trendiest of the furniture brands out there, but Ashley Furniture tops when it comes to reliable, durable, and extremely comfortable sofas. They have some of the most diverse collections of sofas that you will ever see, from the chic modern to traditional styles to contemporary designs that have the coolest features like cup holders, built in recliners, and so much more.
La-Z-Boy
La-Z-Boy is the most iconic furniture brand ever and one among the very few brands to first introduce a very new category of sofa – the recliner.
One of the most notable reasons why customers are so fond of this brand is because the company simply creates marvelously crafted sofas and couches. For a brand that was established back in 1917, it has always impressed customers with its impressive eCommerce services. Users can browse online and find what they are looking for by using the filters that are available to them. Their website also has a tool for sliding measurement, which particularly helps users look for sofas based on their width, a feature you will barely find on any other furniture website.
Frequently Asked Questions!!! (FAQs):
1. What Couches Are The Best? 
If you are looking for the best couches, then there are certain categories to judge then on. These categories are best overall, budget, leather, and many more. You need to know which aspect is important for you, and based on that, you can pick a couch.
2. How Much Does A Good Quality Sofa Cost? 
If you are looking for a good sofa and you are flexible on the budget, then on average good quality is about $500-600. But depending on the look and style you are going for; the price may vary.
3. What Sofa Will Last The Longest?
The majority of sofas are made out of thick hardwood frames. Woods like teak, maple, and walnut are used to make the frame. These sofas last the longest, as they are of great quality. 
4. What Is The Best Month To Buy Any Furniture?
When buying furniture, you should always look for sales or stock clearance in retail shops. Certain months like January and February and again during August and September. These are the time when old stock is sold at great discounts.
5. How Long Should Furniture Last?
Ideally, a good quality sofa should last for about 7 to 15 years easily. If the frame of the sofa is of good quality, then lasting for 15 years is not tough.
Wrapping Up!
Here in this guide, we have talked about the top 10 best sofa under 300 dollars. Hopefully, from this list, you are able to narrow down your choices of the sofa you wanna buy.
Be sure of one thing, the sofa you are buying should be practical and not just good-looking. If the sofa has no utility, then it is of no use to your needs. And it will be a waste of money to buy it.
Read More: