Plumbing services are a must for any plumbing system issues, especially when you have no knowledge or background in fixing them.
The repairing process can take a lot of work and requires expertise to restore such a system to avoid destroying your walls or floors.
However, because of the plumbing system's location, you may not see if there are issues until they create noticeable signs.
And for that, here are some of the warning signs that you need to call the nearest plumbing expert such as CW Service Pros: 
8 Notable Symptoms That Show You Need Plumbing Services
1. Clogged Drains
Grease and hair build-up can cause your bathtubs and sinks to get clogged. You may remove them, but when you have already used a plunger to no avail, you may need to call a plumber.
A professional blocked drains plumber has cameras and other special tools to insert into your sinks and tubs' pipes.
This way, they can check what causes the clog so they can resolve the issue.
2. Water Discoloration
Water is colorless, but if it turns brown or yellow, then something isn't right. The cause may come from your pipes or water heater conditions, especially if the water is flecked with sediment.
You may want to call plumbing services to check if your water tank, pipes, or heater has corroded.
In this way, you can know what needs replacement to avoid having gunky or yucky water.
3. Decreased Water Pressure
Your plumbing system has an issue if there's a sudden water pressure drop. It may be due to mineral deposit build-up causing the main water line to be clogged or restricted, or a hidden water leak may have sprung in one of your pipes.
This problem is hard to fix on your own, and finding the annoying problem could even take a lot of time.
But with the skills and experience of a plumber, you wouldn't have to worry about it.
4. Smell From The Drains
An odd smell coming from your drains, toilet, and sinks is another sign that you need a plumber ASAP. If your tap water is smelly and you have done many ways to remove such a smell without success, it may require a professional's help.
It may indicate broken pipes or clogs contaminating your water source.
You can only verify it if a professional comes to your aid.
5. No Water At All
If there's no water on your property, there might be a bigger problem. It is especially true if it's only happening to your property while your neighbors don't experience such.
Your plumber will verify if the cause of the problem is with the water main, backups, significant leaks, or frozen pipes. It'd be a waste if the water is leaking somewhere else while you're getting none. Moreover, leaks can also cause significant increases in your water bill. Or worse, they could damage your foundation and other property structures.
Even if you experience no water on one of the floors of your property while the other floors have water, it may be due to a pressure problem.
A plumber will use the right equipment to remedy this problem.
6. Faucet Leaks
Faucet leaks won't fix themselves, so calling for plumbing services is necessary. Don't wait for a gigantic puddle in your bathroom or kitchen before doing so
By resolving this minor issue, you can prevent it from creating a bigger problem that can cause more hassle and trouble.
7. Back-flow Issue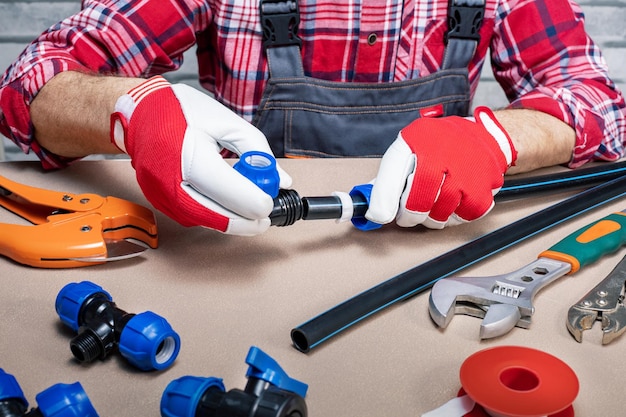 Back-flow water springing to your bathroom tile from your sink is a significant issue you should be concerned about. When this happens, the water from the drain may enter your potable water supply. As a result, your plumbing system may get contaminated
And when liquid comes back up the drain, it may become smellier, especially if the liquid is sewer water. This issue happens when there's a water pressure drop. As a result, the natural downward flow of the water reverses, causing back-flow.
By calling plumbing services near you, they can tackle this problem before it damages your flooring, carpets, and rugs.
8. Overflowing Toilets
While replacing a flapper may fix a toilet that's constantly running, it may be useless if it continues to overflow. It may be due to blockage, and there are many ways to unclog this. But if you can't do it yourself, calling a plumber may be the only solution.
A plumber can help check if the clog is in the sewer line of the primary drainpipe.
It may send water through your toilet whenever you use the dishwasher, the shower, or anything that requires running your water.
In this case, you may need an intensive cleaning of your pipes or a septic tank cleaning.
Conclusion
From fixing faucet leaks to identifying more significant issues in your sewer or drain pipes, plumbing services are ready to help you. Doing these things on your own is possible, but if you're unsure how to do them, it's best to ask for a professional's help.
Read Also: