A home spa can be ideal if you're looking for an inexpensive way to unwind from work, relax, or for self-care. For one, you can use most of your self-care products.
Additionally, you're in no rush to end the routine so that another client can get the services. This way, you get to make the most out of it. As such, it's perfect for your off days or weekends.
Checkout Six Prime Steps To Create The Perfect Spa Experience At Home
Here's what to do to create an excellent spa experience at home:
1. Upgrade Your Spa Pool
It's essential to enjoy the rejuvenating benefits of water during your home spa day. It includes soaking in your bathtub or having a spa pool day and enhancing the amenities you'll be using during the session guarantees that you'll have a pleasant experience.
For instance, you can revamp the spa area by adding quality pools in your spa room. This way, you don't have to use the bathtub.
For quality spa pools, it would be best to work with professionals such as Trueform Spas in Auckland or other similar ones. This way, you can ensure that you get quality and durable spa pools made from high-quality materials.
Furthermore, the company provides a two-year warranty on pumps and heaters, among other after-sales services. On top of that, some companies will allow you to have a custom-built spa pool that features vinyl spa covers that can complement your home.
Another critical upgrade you'd want to consider is the walls of the spa room. They don't have to be bare and dull. Consider adding some wall decor to create a serene environment. Select soothing artwork for the walls, such as biophilic art, to create a relaxing atmosphere in your home spa.
2. Invest In A Good Robe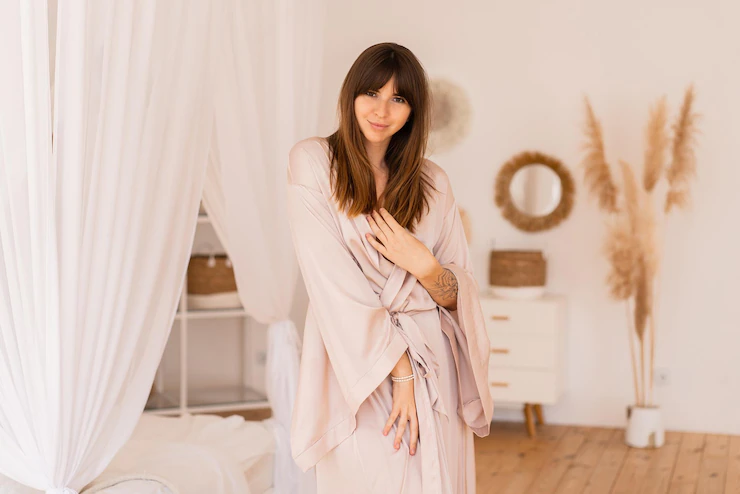 While having the spa session, you'd want to feel comfortable for your body to aerate thoroughly. A key piece of clothing for the best experience is a bathrobe. Go for cotton fabric robes. The soft material will help set you in the right mood.
You can spice things up by setting aside one robe for this purpose. Ensure that it's crisp and fresh to make the home spa day feel realistic. Chic colors like lavender, pink, and purple are highly recommended.
You can easily set up a coordinated themed spa session with these colors. You can also choose a theme matching accessories like the candle holder or your beauty products.
3. Light Candles
For a fantastic spa experience, setting the mood is vital. It would be best if you tried lighting some scented candles for your home spa day.
Choose the ones with scents that contain therapeutic and relaxing benefits. For instance, lavender has stress-relieving effects. You can also use wild orange-scented candles to calm your mind or peppermint to help freshen your mind.
Avoid strong scents, as they can result in a headache. Also, don't mix the scents, as the combinations may be unpleasant. A soothing spray from your preferred aroma will work perfectly if candles aren't your thing.
4. Moisturize Properly
It would help if you didn't finish your at-home spa day with dry skin. If you do, you must have done something wrong. As such, it's crucial to start the day with a moisturizer. Remember that tight skin indicates stressed skin, so it would be best to continue moisturizing daily.
If you don't moisturize, your skin might develop severe conditions, such as eczema or rosacea. Thus, moisturizers are a must-have in your health and wellness kits.
5. Play Some Soothing Music
Soft and pleasant music for the ears helps you create the perfect ambiance. The practice has been shown to have a meditative effect. High-end speakers are required to get the highest quality sound, high-end speakers are required.
The session would benefit from some jazz or blues that is both relaxing and energizing. Compile a playlist that'll last the entire session, so you don't have to cut your sessions short by selecting more songs.
6. Indulge In A Facial
Your at-home spa experience is only complete with a facial. For best results, you should use organic skincare products. By now, you should have learned what works for your skin and what irritates it.
A facial can help rejuvenate your skin by extracting dead skin cells and debris. Therefore, using the best skin care products that won't irritate your face or create flaking is crucial. It would be best to see your dermatologist before scheduling your facial for sensitive skin.
When working on your face, ensure you cover sensitive parts like the eyes and lips. A soothing eye mask usually suffices. But if you don't have one, cut a cucumber into rounds and place them on your eyes. They help reduce dark circles and puffiness around the eyes.
Remember to invest in skincare gadgets such as rollers for your facial massage. You can ask your companion for assistance with the gadgets. You can view a tutorial on how to operate the device in advance to ensure proper operation.
7. Incorporate Red Light Therapy at Home

To enhance the rejuvenating effects of your at-home spa experience, consider incorporating red light therapy. Red light therapy at home can help improve skin texture, reduce inflammation, and promote collagen production. Invest in a high-quality red light therapy device and follow the manufacturer's instructions for safe and effective use during your spa sessions.
Conclusion
To recreate a professional spa day in the comfort of your home, you'll need to update your spa facility and efficiently mobilize the essential supplies. Prepare in advance and have all the essentials set. Ensure you choose products that can work well for your skin.
For amenities like a spa pool, ensure you consult with professionals for the best and high-quality spa pools in the market. In this manner, relaxing at home might become a habit rather than an occasional indulgence.
Read Also: