Are you searching the internet for some great modern basement bar ideas? If your answer is yes, then you have reached the right place.
We all plan to make sure that we are able to utilize most of the spaces in our house. However, if you are someone who is planning to turn the basement of your house into a bar, you will surely find this article to be of help.
Keep reading this blog till the end to learn more about the modern basement bar ideas that you can have in 2023…
Pinterest Worthy Modern Basement Bar Ideas To Try In 2023!
In case you have always wanted to have a bar in your house where you will be able to spend time with your friends, or alone, or maybe hold a cozy and intimate family gathering, you have come to the right place. However, most people struggle with coming up with the best bar ideas for the house.
If you happen to have a basement and do not know how to utilize the space, it is time that you turn that space into a bar!
Here are some of the best modern basement bar ideas that you can try to make your house look pinterest worthy in 2023:
1. Add A Neon Sign
The first thing that you can do in order to make your modern basement bar lit, is light it up in neon, literally. There are a number of websites online that are known to sell amazing neon signs and that too at a very affordable price. Just add a neon light that says something you resonate with and that is all. You are all set to bring the right amount of brightness to your basement bar.
2. Mirrors And Arches
Considering the fact basements are considerably smaller in terms of height as well as space, it is important that you are able make the most out of it. You can add mirrors to make it look more spacious. If you want to ensure that the room looks nice and modern, you can also add wooden arches over the mirrors.
3. Keep The Lights Dark
Are you someone who likes to keep the space a bit darker? Well, if that is something that you want, I have something for you! Take a look at this image right here. Try to use darker colors like bottle green and brown. Add yellow tinted lights around the corners, and play with the silhouette. You can add mirrors, again, behind the cabinet to make it look like you have a greater number of alcohol than you really have.
4. Add White Tiles To Brighten Up!
If you have a small basement, you might try to brighten up the space by adding white tiles behind the counter. Not only will it make the space look bigger, but it will also light up the space a lot more than you think! And imagine your colorful glistening bottles of gin, rum, whiskey, and wine displayed against the white backgrounds— just imaGIN!
5. Keep It Dim Sober With Gray
If there is one color that best suits the modern tones, it has to be gray. It is the color that you should try for your house if you are looking for a color that can make your room dark, but not too dark. With the right amount of lighting, preferably white lights, the basement bar will look modern. Add a touch of golden here and there to break the monotony and add to the luxurious appeal!
6. Add A TV
Who does not like to enjoy their time while drinking? And what better way to do that other than adding a television on the wall? You can easily drink while you watch the news, or a movie, or even the highlights of your favorite sports.
7. Concentrate On A Corner!
If you have a small basement area, and still want to ensure that you have a modern basement bar, I have you covered! Take a look at this image right here. Keep in mind not to take up all the space. Add appropriate seatings and the right amount of light to make the basement look bigger. It is best to focus on a corner!
8. Low Maintenance With Bricks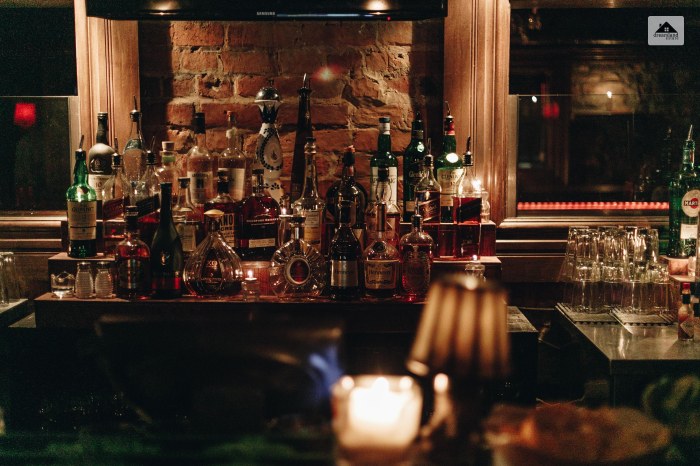 If you are a little tight on the budget and still want to have a basement bar, it is possible. All you need to do is showcase the brick walls of the basement in such a way that it makes the room look cool! This is a great example of a low maintenance modern basement bar. And don't forget about the lighting! Bulbs or yellow tinted lights look great on brick walls.
9. Minimum Lighting For A Cozy Atmosphere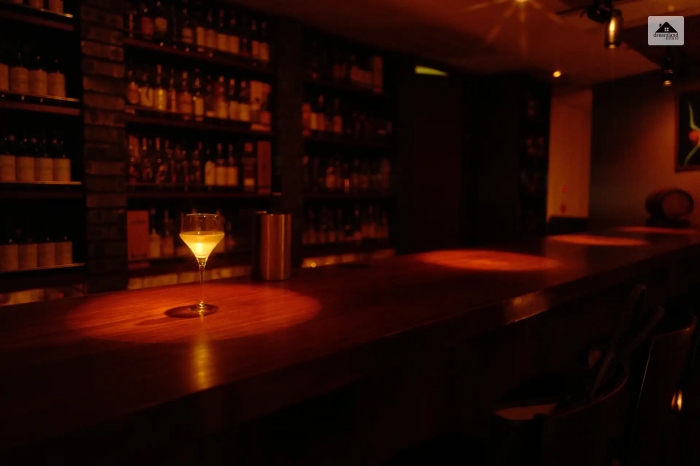 The thing about modern architecture is that there are right things in the right area. And that is exactly why it is important that you focus on the lighting. Use minimum lighting and use it only where necessary. Take a cue from this image right here. Not only will you be able to save on the electricity, but at the same time amp up the look of the basement bar.
10. Wooden Cabinets For Storing Alcohol!
If you happen to have the old tall wooden cabinets from your grandparents in your house, you can try to repurpose them and use it as a storage for the bottles of alcohol. Make sure that you match your woodens cabinets to the color of the wall appropriately!
Modern Basement Bar Ideas: Notable Mentions!
Did you rethink that the list was over? Well, not yet! Here are some of the other honorable mentions of the modern basement bar ideas that you can try in 2023 for your house.
Take a look at these to get inspired for your next house projects:
1. Basement Bar Cum Jam Session
2. Modern Basement Bar Ideas With Wood Paneling
3. Brick Tiles For Modern Basement Bar Ideas
4. Fill It Up With Posters
5. Host Karaoke Nights
6. Whiskey Under The Chandelier As A Centerpiece!
7. Keep Fruits Because Why Not!
8. Color Coordinated
9. Vintage Touch
10. Show Off Your Collection!
Wrapping It Up!
In case you were searching for some modern basement bar ideas that you can try in 2023, I hope that this article has been of help to you. If there are any other queries related to the same, please feel free to let me know in the comment box below.
Read Also: