When designing a kitchen, there are a few elements as important as your kitchen backsplash.
Not only does this kitchen feature provide a vital functional role in keeping your walls free from cooking grease, food splatters, and other kitchen messes. It also has an immensely significant aesthetic impact on the entire look of your kitchen and the design style you are going for.
Fortunately, if you are designing your kitchen and plan on including a backsplash, there are a few simple tips you can use to ensure that the finished result looks both stylish and cohesive.
Six Prime Ideas On Creating A Cohesive Design With Your Kitchen Backsplash
Read on for our top tips and tricks on creating a cohesive design with your kitchen backsplash. 
1. Create A Focal Point With A Stunning Backsplash
When it comes to kitchen design, one option to consider is making your backsplash the focal point of the entire kitchen. Depending on the style and look of the kitchen that you are going for, you can opt to create a stunning focal point with the backsplash tile by utilizing dramatic textures, patterns, and vibrant colors, such as a picket tile backsplash.
2. Pick Your Kitchen Backsplash Tile First
If you really want to create a cohesive kitchen design, one of the best strategies is to choose your backsplash tile first.
After you've decided on the type of tile you want to use with your backsplash and the overall look you're going for, you can then focus your efforts on shopping for complementary countertops and other kitchen elements.
3. Match Your Backsplash With Your Countertop
One of the quickest, easiest, and most effective ways of creating a beautiful, cohesive kitchen design is by matching the backsplash with the countertop.
In other words, this means selecting backsplash material and tones which complement and enhance the counters without overpowering or clashing with them. 
4. Pay Attention To Grout Colors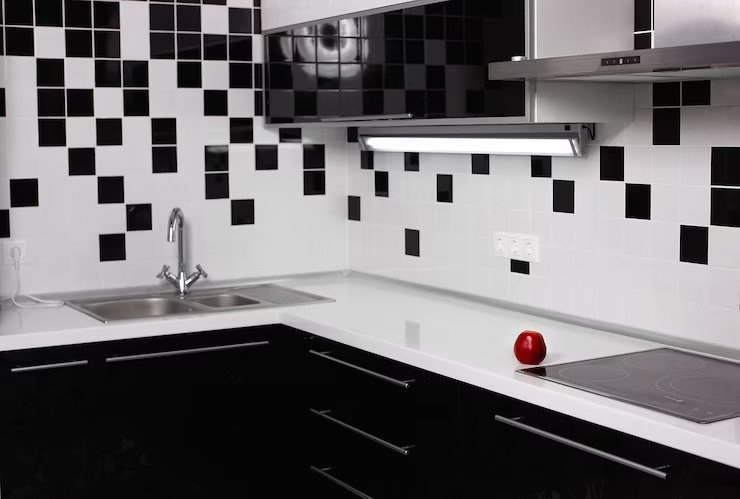 When it comes time to install your kitchen backsplash, don't forget to pay attention to the grout. Often neglected, grout is an important element in achieving an aesthetically pleasing and coordinated look for your backsplash. 
Depending on the overall style you are looking for and the type of tile you've chosen, you may find that a contrasting grout color is the perfect finishing touch for your kitchen. 
5. Consider Bold Or Unique Patterns
If you're looking for a way to design a truly glamorous kitchen, look no further than bold and unique patterns for your backsplash tile. Whether it's subtle geometric designs, luxe metallic looks, or creative shapes and sizes, a more daring approach to your backsplash can create a truly captivating kitchen.
6. Don't Forget The Space Above And Around Your Backsplash
The area above and around your kitchen backsplash will often be quite visible, so it's important to take this into consideration when designing your kitchen.
Keeping the space around and above the backsplash balanced and in line with the overall look of the kitchen can also help to create a more cohesive design and look.
Conclusion
The kitchen backsplash is one of the most important elements of creating a beautiful and cohesive kitchen design.
By remembering to match the backsplash with the countertop, selecting your kitchen backsplash tile first, and creating a stunning focal point, in addition to paying attention to grout color, bold pattern designs, and the surrounding space, you can be sure to achieve a truly lovely kitchen backsplash style.
Read Also: