If you are one of those people who loves to have an aesthetically pleasing house that has the potential for some great instagramable pictures on the daily. Then other than just aesthetically pleasing wallpaper and decor, you need to have the most aesthetic doors as well.
And what is more aesthetically pleasing than white walls and black interior doors, there is nothing more classy and trendy than a monochromatic house and interior decorations.
20+ Black Interior Doors Ideas For Your Home
If you are looking to decorate your house with a beautiful monochromatic color scheme with white walls and black interior doors, then here are a few tips for the perfect black doors for your home.
1. Black Door With Brass Door Knob
Nothing looks classier than a matte black door with a brass door knob, the combo stands out yet remains subtle throughout the room decor.
2. Sliding Black French Doors Interior
If you have a big area for a door, then it's great to get sliding modern black interior doors. It will look great for any room, but especially for going to the lawn.
3. Black Headboard With Sconce For Reading
To match the black doors in your bedroom, you should go for black headboards with a similar color sconce, for when you are reading your favorite novel.
4. Bedroom With Sliding Bathroom Door
Who said that your bathroom door could not be aesthetically pleasing, if you are coordinating all the doors in your home with black doors, then why leave out the bathroom door? Black rimmed opaque glass doors will look great for the bathroom.
5. Black Interior French Door With Brass Knob
For bigger houses, you should definitely go for something a bit fancier like that of French-style doors, with bigger door knobs. Nothing screams classy than that.
6. Bathroom With Glass Shower And Black Interior Door
For shower doors, you should use beautiful glass doors that have black rims to match your whole aesthetic.
7. Rustic Black Pantry Door With Window
Even your pantry door should have an aesthetic of its own, so don't forget about that.
8. Black Pantry Door With Black Knob
If you think that black doors with bronze or gold colored knobs are not edgy enough for you, then what you can do is get black knobs with black doors.
9. Sliding Balck French Door With Black Handle
French style sliding doors are great if you have a country house aesthetic with a big lawn. Nothing looks better than that.
10. Rustic Black Farmhouse Door With Wreath
Around Christmas time, wreaths look great on doorways, and with black doors, they look even better, then the color of the wreaths pops.
11. White Shiplap Entryway With Black Interior Doors
The white wall and black doors is evergreen, so you can never go wrong with that. So without a doubt in your mind go ahead with this combination, without a doubt in your mind.
12. Black Interior Doors With Nickel Knobs
With black color doors, any type of door knob works actually, whether it is brass, nickel, or anything else.
13. Black Bedroom Door With White Trim
Bordering your black interior doors white makes the black color pop even more, so doing that is great.
14. Black Dressing Room Door With Coat Hook
Decorating your dressing area with a monochromatic color is great for the best mirror selfies.
15. Black Door With Glass Frame Window
If your door has window frames to it, then make sure that they are black frames to go with your whole aesthetic.
More Black Interior Doors Idea
Take a look at these black interior doors for your home.
16. Black Interior Door With Nickel Door Knob
17. Black Sliding Laundry Door With Frosted Window
18. Black Closet Door With White Trim
19. Black Chevron Sliding Barn Door
20. Black Interior Barn Door With Black Track
21. Bathroom With Black Door And White Bathtub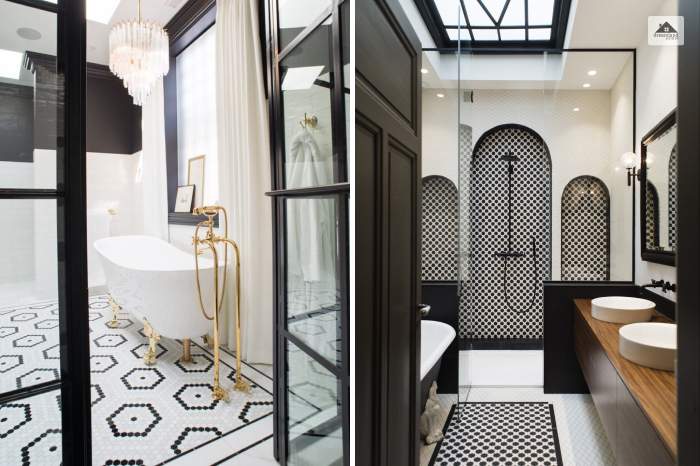 Frequently Asked Questions (FAQs):
Here are a few queries that others have regarding black interior doors, so check them out.
1. Are Black Interior Doors Trendy? 
Black interior doors are very on-trend for home decor. And with the more younger generation, it is all about aesthetics, so black interior doors are all the hype.
2. What Interior Doors Are Most Popular? 
The type of interior door that is the most popular among homeowners are panel doors. These doors are available in many different styles.
3. What Sheen Is Best For Black Interior Doors?
The sheen that looks great with black interior doors is a semi glossy sheen. It looks great also doesn't overshadow the home decor as well.
Wrapping Up!
There are a lot of black interior doors ideas, but you can't just pick any type of door; it needs to be in sync with the whole room. Synchronization is important to make the whole room look good and aesthetically pleasing.
Read Also: